Blog
So You're Shooting In Vancouver, Eh? (Part 2)
Welcome to The West Best Coast
If you missed the first part of this series, check it out here!
For this part we'll be exploring a handful of locations up in North Vancouver. Thankfully Vancouver is a very easy city to drive in and these locations are a simple 20+ minute drive from downtown Vancouver!
Deep Cove
A quick drive right from Second Narrow Bridge, Deep Cove is a beautiful pocket of BC that gives you a rural coastal feeling without having to take a massive road trips. It's a peaceful location with lots of kayakers and boaters to give you a hometown sort-of-vibe as a backdrop.
Being situated underneath Seymour Mountain usually protects Deep Cove from bustling winds, and it's tucked-away nature from Vancouver also means that it is a quiet place for getting location audio too.
The area has recently become a hot spot for the Vancouver film industry in light of the exchange rate playing in favor of USD, so expect to see a fellow film crew there if you decide to shoot!
Lynn Canyon Park
Lynn Canyon Park is a quick ride away from Lonsdale Quay and offers a ton of beautiful forest foliage and waterfalls to shoot stunning vistas at.
It's a very green park without a doubt, and between the ferns, moss, and tall, tall trees, it's definitely a great place to shoot B-Roll and perhaps even an interview or two if the story supports it.
The two downsides to this location are that it gets EXTREMELY busy during the summer weekends (there will be a line-up for that suspension bridge) and that the hours are limited to daylight hours, meaning it may not be too optimal for shoots deep into the fall/early winter.
If you can work around it, Lynn Valley is totally worth it – many successful spots have shot here, including one we recently did for Steamwhistle Pilsner!
Seymour Mountain Provincial Park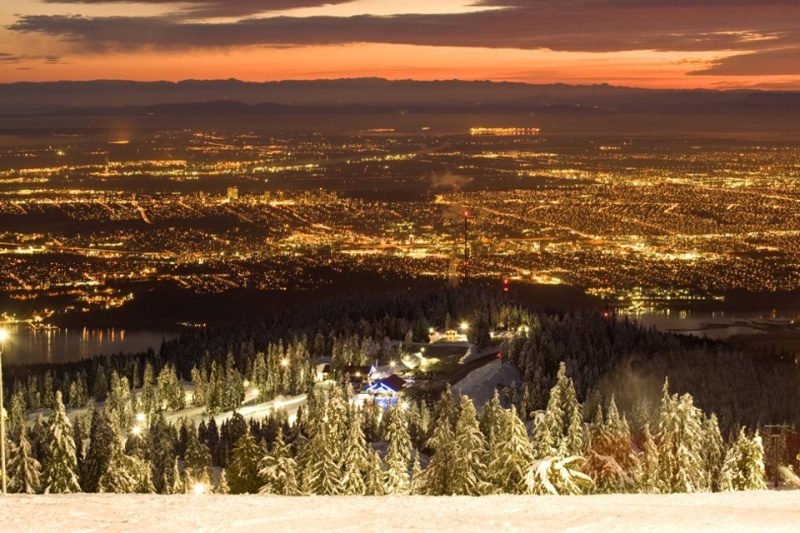 Once you've made it up the zig-zagging road to the top, Seymour Mountain offers some absolutely amazing views of Vancouver and the skyline beyond, all the way down to the USA!
Seymour Mountain can function as a great location for shooting hiking footage in the summer, with it's many rocky trails and beautiful, clear look outs. On a clear day in the summer you can shoot some absolutely gorgeous vistas and it is rarely busy!
On the flip side, shooting in the winter is also a blast. Prepare for foggy conditions due to the high altitude – you can always see the fog level from almost anywhere in Vancouver pointing north. And prepare for crowds – Seymour is a popular ski hill, which also lends itself to a great backdrop for your video.
Seymour is also wide open and allows for great footage to be shot with a drone!
---
We'll be following up this list as much as possible with more great locations. Hopefully this can give you some inspiration to get out there and shoot a beautiful video!
If you want to get started working with us or have any more location suggestions, contact us at:
604.765.2444 or hi@redripley.com